Christmas tree craft ideas: Cakes "Christmas Tree"
To prepare you will need:

At 6 pieces

For the cake:

Eggs - 3 pieces

sugar - 75 g

ground almonds - 100 g

flour - 25 g

starch - 25 g

Salt - a pinch

For the decoration:

white chocolate - 100 g

Pistachios - 100 g

powdered sugar

jam

For snowy tops:


powdered sugar - 3 tbsp.

spoon


lemon juice - 1 tsp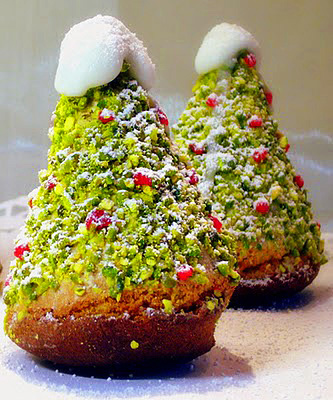 Instruction:
Proteins are separated from the yolks, beaten with a pinch of salt until a stable foam, still whisking, add sugar gradually.
Then add the yolks.
Mix the ground almonds with the flour and starch.
Gently stir flour mixture into the egg mass.

Baking these biscuits need cone paper.
On paper, you need to draw circles with a diameter of 20 cm, cut them out, cut along the radius from the center.
Dough filled with pastry bag and fill it out kulechki paper.
Or make a tea spoon, making sure no voids in kulechkah.
Bake in a preheated 180 oven for 15-20 minutes
Remove from the oven and leave to cool
Pistachios are detailed.
Melt white chocolate in a water bath.

Cooled cakes gently to release the paper with a sharp knife, if necessary, trim the bottom evenly.

Sponge brush coat with a thin layer of chocolate and roll in crushed pistachios.

Red dots, beads of jam or jam conveniently applied using a conventional c a medical syringe without a needle.
Powdered sugar mixed with lemon juice, the resulting glaze teaspoon degenerate at the top of the cones.
Christmas trees sprinkle top with powdered sugar.
Read more:
http://kitchensecrets4you.com/vypechka/gotovim-pirozhnye-rozhdestvenskaya-elochka.html