Primary colored paper bird - home decor/party favors/place card settings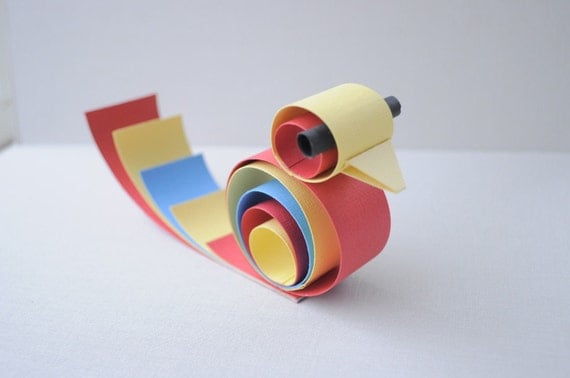 Want something unique, fun and whimsical for your next Valentine's day party? Use this paper bird as a name tag and favor for your loved ones to take home with them.
The body and tail has been made with five layers of card stock in a primary yellow, blue and red. It has a cute yellow beak and black eyes.
The bird measures about 8 inches long from head to tail and about 3 1/2 inches tall.
Quantity: 1 bird
Colors: blue, red, yellow, black
Measure: about 8" long, 3" tall and 2" wide
Halloween Series - BOO Black Bird - Place setting, home decor, dark wedding
Ahhh home at last! You get out of your car when you see the neighbor's bushes moving. What is it? Who's there? You stand still with your eyes wide open in fear.. then you hear little feet approach and out pops a black bird!! Ahhhh run away!!
This paper bird is wonderful to use for home decor, a child's playroom, place card setting or just because you want it.
The body, tail and head are all made from black card stock and the beak is made from a poppy (orange) colored paper.
From
imeondesign